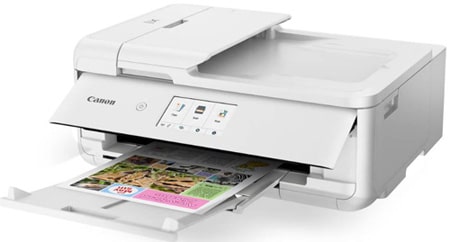 We're used to seeing inkjet printers designed for small business or general home use, but it is unusual to see a model that's more narrowly targeted unless it is for photography enthusiasts or enthusiasts.
The Canon PIXMA Home TS9565 is designed with crafts in mind, and as such is drawing more attention than you might expect.
So what makes the PIXMA Home TS9565 a craft printer?
For starters, it works with a particularly variety of media. Apart from regular and photo papers as large as A3, the TS9565 works with Canon's magnetic or restickable photo papers, card stock up to 12x12in (30.5x30.5cm), greeting card blanks from Avery (easily found) or Red River Paper (hard to buy in Australia), envelopes, and T-shirt transfer paper.
Most of these have pretty obvious applications, but Canon points out that printing on card is a plus for scrapbookers, and we would add model makers to the list of crafters who could benefit from this model.
Depending on the stock you're using, the TS9565 supports print sizes from business cards (91x55mm) right up to A3. Borderless printing is possible on most popular sizes.
A very attractive feature of this printer is the ability to produce booklets on A3 or A4 paper. Thanks to the printer driver and the double-sided printing capability (on A4 and some smaller sizes), this can be a completely automatic process. All you need to do is select booklet printing and then fold the finished pages. You can even use booklet printing in conjunction with the TS9565's scanner – which includes an automatic document feeder – to turn a stack of pages into a booklet without having to use a computer.
45 paper patterns are built into the printer, so you can produce sheets for wrapping presents or for use in craft projects such asscrapbooking.
The paper cassette holds up to 100 A4 or smaller sheets. The rear tray has the same nominal capacity, though that is reduced to 50 sheets of A3 paper. The really unusual medium is Canon's sheets of printable nail stickers. Used in conjunction with the Canon Nail Sticker Creator app for iOS or Android , you can print existing nail designs, create your own from templates, or turn a photo into a nail art.
Once printed, you attach a sticker to your fingernail, use a file to remove the excess material, then apply top coat to protect the image.
We couldn't find a full review of this printer, but Cnet's verdict on the nail sticker feature was "It's simple and it works."
Technical Specification
The PIXMA Home TS9565 includes the usual connectivity options – Ethernet, Wi-Fi (via an existing network or as a direct connection), Bluetooth and USB. Mobile device printing support comes in the form of AirPrint, Mopria, Google Cloud Print, Canon Print Service, PIXMA Cloud Link, Windows 10 Mobile, and Canon's printing apps for Android and iOS.
When it comes to photo printing from digital cameras, there's a port for regular, mini and micro SD cards. PictBridge-compatible cameras can be connected to the TS9565 via Ethernet or Wi-Fi, but not by using the USB interface.
The 10.8cm touchscreen display is generously sized, helping to simplify operation – smaller touchscreens struggle to display enough information and options in one go, and can make it a little tricky to hit the right target with your fingertip.
Any printer capable of using A3 is going to be on the large side, but the TS9565 doesn't look particularly big as it is no wider than many A4 models. But once the trays are extended, its footprint grows from 468x366mm to 468x820mm. At just under 10kg, it's a relative lightweight as A3 printers go.
What inks can i use with my printer?
The TS9565 uses PGI-680 pigment black and CLI-681 CYMK ink cartridges, which are also available in XL and XXL sizes for greater economy. Remember that every cartridge purchased from Ink Depot comes with loyalty points that can be used to reduce the total bill next time you buy, and don't overlook the company's range of compatible cartridges if you need to save even more money.
With a list price of $369, this is a reasonably affordable A3 printer for home use. Despite being positioned as a craft printer, it's far more than that. PIXMA printers are well known for quality photo printing, and booklet printing can be a boon for school projects and for various domestic and home-business purposes. The same goes for the copying and scanning functions. Indeed, depending on your exact requirements this Canon printer could be the best home printer, and it shouldn't be overlooked simply because you're buying a printer for a small office that doesn't churn out many pages a month.
Pros
A3 printing at a modest price
Wide range of media supported
Nail art feature
Some functions available without a computer or mobile device
Booklet printing
Relatively large touchscreen
Cons
Large footprint when in use
Limited paper capacity
PictBridge support is wireless only
Online printer reviews are a fantastic way to reassure yourself that you are buying a printer that meets your requirements. If you have any doubts, we recommend that you search the web for Canon Pixma TS9565 printer reviews until you are at ease with your purchasing decision.