We previously looked at printable building kits for railway, military and other transport modellers, but there are plenty of free downloadable printable kits of structures of general interest.
Paper craft in general and model building in particular can be a good activity for keeping kids busy during school holidays (especially now the weather's changing), but it can also be an engrossing and inexpensive pastime for adults.
List of Free Printable Paper Building Kits
PaperToys
PaperToys.com has a good collection of printable building kits. They are mostly American (Empire State Building, Brooklyn Bridge, the White House, the Capitol Building, Frank Lloyd Wright's FallingWater, and Bill Gates' house) but other countries are also represented, Big Ben (more formally, the Elizabeth Tower) and Shakespeare's Globe Theatre from the UK, India's Taj Mahal, and our own Sydney Opera House. None of the models looks excessively complicated, although the small size of some parts could prove challenging for some builders at both the cutting out and gluing together stages.
John Townsend's Skyscraper Models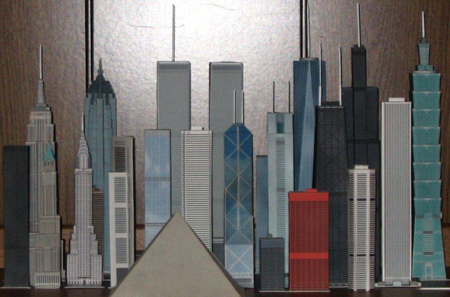 John Townsend's Skyscraper Models site offers free, printable models of various notable skyscrapers, including Sydney's MLC Centre, New York's Trump World Tower, and Taiwan's Taipei 101. The degree of difficulty is variable, with the MLC Centre being among the simplest.
Creative Park by Canon
Canon's Creative Park site includes an extensive collection of architectural models from around the world. These are far more complex projects. For example, Canon's model of Big Ben requires 13 sheets of A4 paper and involves 62 parts, compared with just one sheet and three parts for the PaperToys model. Other kits that look like they would make up as impressive models include London's Tower Bridge, Christchurch Cathedral, Notre Dame Cathedral (Paris), Barcelona's Sagrada Familia (a whopping 459 parts printed on 29 A4 sheets!), the Sydney Opera House, and the Todai-ji Temple Hall of the Great Buddha (Japan). Some of the buildings are available in simplified kits for beginners. One example is the single-sheet, 11-part version of the Sagrada Familia. Despite the relative simplicity, we would not recommend them for younger children unless they were ready to graduate from the easiest paper models.
Delta7 Studios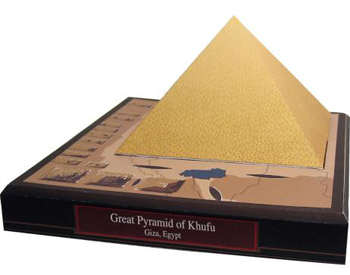 Delta7 Studios has a range of commercial downloadable kits, but also offers a collection of free models of the Seven Wonders of the Ancient World. Five of the seven - The Hanging Gardens of Babylon, The Great Pyramid, The Temple of Artemis, The Pharos of Alexandria and The Tomb of King Mausolus are currently available. Kits for The Great Statue of Zeus and The Colossus at Rhodes are planned for future release. These kits were originally developed to provide free printable paper models for rehabilitation therapy purposes to hospitals and rehabilitation centres, but are now available to everyone.
Build Model Castles
Build Model Castles is primarily a commercial site, but it does offer a free printable Blarney Castle. Construction looks pretty simple, and about the only aspect where young modellers might need some adult help is cutting out the battlements.
Haunted Dimensions by Kay Keim
Horror fans might be attracted to Kay Keim's "Haunted Dimensions" collection of free downloadable kits for spooky buildings including the Bates House (from Psycho) and the Amityville House (the real-life inspiration for the Amityville Horror book and movies). An interesting aspect of the Bates House is the suggestion to use inkjet transparency film (as used for producing overhead projector slides) when printing the porch rails and the roof cresting.
Wizard Castle by Klaus
Continuing the movie theme, a German modeller named Klaus has created a free downloadable kit of "Wizard Castle", which would be recognisable as a certain school of wizardry to those who have seen the Harry Potter movies. Note the link that allows you to download the dozens of pages of the kit as a single .zip file. A related item - Hagrid's Hut - is available from an Italian site, but as the designer points out, "The model is not complex, but quite small, so making it could be a bit hard for people with no experience with paper modelling", but the step-by-step photo gallery will help.
Disneyland Printable Paper Models and Structures
If you're up for a real challenge, there's a 518-part (42 pages) "Disney approved" kit of the Sleeping Beauty castle. The model includes a working drawbridge, and if you scroll down the page you'll find a suggestion for making the portcullis more realistic. The same site offers kits of other Disneyland buildings including the Main Street train station, Space Mountain, and the Disneyland Paris version of the Sleeping Beauty castle.
YPS Fanpage
London's Scotland Yard has appeared on the silver and small screens on many occasions. German site YPS Fanpage offers a four-page downloadable kit of this famous building. It is another example of a kit that isn't especially complicated, but a few of the parts look relatively hard to cut out, and the small tabs could make assembly a challenge.
Some tips on printing and assembling downloadable building kits can be found in the first article in this series. You may also look at our Free Printable Easter Crafts For Kids.