Space is at a premium in small offices and apartments, but if you can't find room for an HP DeskJet 3720 then you probably don't have room for an all-in-one at all.
When the DeskJet 3720 was launched, HP claimed it was the world's smallest all-in-one priced less than $US250. That claim was made quite reasonably on the basis of volume (the next smallest was nearly 70 percent bigger), but most people would be concerned with the footprint rather than the height. According to HP's specifications, the DeskJet 3720 is 403mm wide and 177mm deep. Reviewers suggest an extra 50mm or so of front-to-back space is needed to leave room for the paper tray that unfolds from the rear.
These compact dimensions - relative to other all-in-ones - were largely achieved by doing away with the usual flatbed scanner unit. Instead, the DeskJet 3720 uses a mechanism similar to those used in most fax machines or the ADF (automatic document feed) features of other all-in-ones. Original documents are fed in through a slot in the top of the case and pass over a sensor unit.
One downside of this arrangement is that the short paper guide means the original tends to go through the mechanism slightly crooked. We've all seen copies that aren't particularly square so that shouldn't be a big deal.
A bigger concern is that when copying, the top of the duplicate may show a black bar. Not only is this unsightly, it is also a waste of ink.
HP inkjet print speed specifications
Rated copy speeds are up to 4ipm in black and up to 2.5ipm in colour. The scanner's maximum optical resolution is 600dpi, but copy resolution is limited to 300dpi. Print resolution is up to 1200x1200 "rendered dpi" in black, or up to 4800x1200 "optimised dpi" in colour (that maximum is only available when printing from a computer).
HP quotes first page out times as fast as 18 sec for a colour A4 page, or as fast as 15 sec for black. A 10x15cm colour photo print speed is said to be as fast as 65 sec.
One problem with using the DeskJet 3720 to produce photos is that is is not capable of borderless printing.
Explicitly supported paper sizes include A4, A6 and DL, but anything from 76.2x127mm to 215.9x355.6mm can be used. The weight of A4 paper should be in the range of 60-90gsm (75gsm is recommended), but heavier specialty media such as HP's 300gsm 10x15cm photo paper can be used.
Connectivity
You can connect the DeskJet 3720 to a computer via its USB 2.0 port, but adding it to your Wi-Fi network (802.11b/g/n) provides the flexibility of being able to print from and scan to multiple devices. There's also the option of direct Wi-Fi connections (Wireless Direct printing means a Wi-Fi router is not required), and the DeskJet 3720 supports AirPrint and HP ePrint for mobile printing.
The recommended maximum usage is 200 pages per month.
If you're not keen on the white and blue colour scheme, there's also the otherwise identical DeskJet 3721 in white and green, or the white and red DeskJet 3723.
You can buy the DeskJet 3720 directly from HP for just $59, and at least one national retailer sells it for a mere $48. A quirk of HP's wholesale pricing means Ink Depot can't match those numbers, but the company can still save you money when it comes to buying replacement ink cartridges. Buy DeskJet 3720 multi-function printer online at the Ink Depot website.
The HP Deskjet 3720 uses HP 65 65XL Ink Cartridges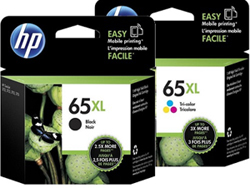 The DeskJet 3720 uses HP 65 65XL ink cartridges: one black, the other containing cyan, yellow and magenta inks for colour printing. A criticism sometimes made of tri-colour cartridges is that they waste ink because they must be replaced as soon as one of the colours runs out, but HP has come up with a scheme that tracks how much of each colour is used so subtle adjustments can be automatically made to even out the consumption.
A genuine black 65XL high-yield cartridge (300 pages) is just $31.95, compared with $44 direct from HP or $44.98 at a big-box retailer.
Similarly, a genuine tri-colour high-yield cartridge yielding is just $39.23 from Ink Depot , compared with $54 from HP or $53.47 at that retailer.
Further savings can be made by purchasing value packs containing one or two pairs of black and tri-colour cartridges for a few bucks less than buying the cartridges separately.
If you're on a tight budget, Ink Depot's remanufactured high yield cartridges cost $26.17 (black) or $26.71 (tri-colour), saving nearly $6 or more than $12 respectively on the company's already discounted prices for genuine cartridges.
And don't forget that you earn loyalty points with every purchase from Ink Depot, and they can be used to reduce the cost of subsequent orders.
WHAT THE REVIEWERS SAY
Pros
"[Y]ou can certainly sit it on a desk or shelf at home without taking up too much space at all." Tech Advisor
"Produces excellent quality prints, including colour and black documents and photos" Good Housekeeping
"One of smallest printers available, great if you're tight on space" Good Housekeeping
"Photo prints are clear and well coloured, and just as good with pastel landscapes as vivid portraits." Trusted Reviews
Cons
"[T]he lightweight plastic casing tends to rattle quite a bit while the printer is working." Tech Advisor
"Doesn't have a memory card slot or Pict Bridge to print pictures directly from a digital camera" Good Housekeeping
"This is not a quick machine." Trusted Reviews
"[F]or very similar money you could buy a more conventional flatbed all-in-one which would be easier to use, would print and scan a lot quicker and produce prints of similar quality." Trusted Reviews