Ink Cartridges for Canon PIXMA TS9565 Printers in PIXMA Series
The Canon PIXMA TS9565 uses the following PGI-680, PGI-680XL, PGI-680XXL, CLI-681, CLI-681XL, CLI-681XXL Ink Cartridges namely - CLI-681 Black, Cyan, Magenta & Yellow, CLI-681 Black, CLI-681 Cyan, CLI-681 Magenta, CLI-681P Photo Blue, CLI-681XL Black, Cyan, Magenta & Yellow, CLI-681XL Black, CLI-681XL Cyan, CLI-681XL Magenta, CLI-681XLP Photo Blue, CLI-681XL Yellow, CLI-681XXL Black, CLI-681XXL Cyan, CLI-681XXL Magenta, CLI-681XXLP Photo Blue, CLI-681XXL Yellow, CLI-681 Yellow, PGI-680 Black, PGI-680XL Black, PGI-680XXL Black.
Ink Depot offers a great range Ink Cartridges for your Canon PIXMA TS9565 device with high quality products at very competitive prices. We offer a 100% money back guarantee for all consumables you have purchased from us and with 98% of our advertised products in stock, you can be assured of a speed delivery.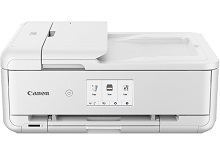 FREE delivery on all orders over $99.00
Genuine Ink Cartridges
for Canon PIXMA TS9565
Canon PIXMA TS9565 Accessories
View Product

4.9 (15)
Claim your money back guarantee for your Canon PIXMA TS9565 Ink Cartridges / Consumables
All products sold by Ink Depot are supported by a 100% money back guarantee. If you are not entirely satisfied with the performance of your PIXMA TS9565 printer consumables then we will gladly offer you a refund, credit or replacement. This guarantee is valid for up to 90 days after the date of your purchase. For further details about the terms and conditions of this guarantee offered by Ink Depot please see our see returns policy.
How fast will your Canon PIXMA TS9565 consumables be delivered to you?
We use FAST Australia Wide courier delivery. Your cartridges will usually be dispatched from either the Melbourne, Sydney, Brisbane, Adelaide or Perth Warehouse the same day if ordered before 1pm. As a general guide, deliveries to major cities will take 1 to 2 days whilst it could take up to 5 days for more remote areas. We offer FREE delivery for orders over $99.00 or only $6.95 for orders under $99.00. See our shipping policy for further details.
If you are looking for an updated driver or an instruction / user manual for your PIXMA TS9565 printing device, please check the Manufacturers' website.
What our customer says about their PIXMA Series or PIXMA TS9565 Ink Cartridges purchases

EUGENE, Saturday 31 July, 2021
The best service anywhere. Less than 24hrs delivery times.

Faye, Wednesday 14 July, 2021
A couple of Sundays ago I ran out of one ink colour while printing an important document. I ordered supplies from inkdepot on that very Sunday evening and received the order the next day. Amazing! Five stars - always helpful and products very reasonably priced. Thank you Inkdepot.

Lloyd, Wednesday 07 July, 2021
always excellent servuice

John, Wednesday 09 June, 2021
A model of promptness and efficiency - as always

Marie, Monday 07 June, 2021
Could not believe how quickly it was delivered. Overnight!!! Great service and great product as always.

Catherine, Sunday 23 May, 2021
Best price around. Ordered in the afternoon, received the next day. Amazing service!

Judith, Friday 21 May, 2021
I have ordered Canon computer ink products from Ink Depot on several occasions for personal use and find their service efficient, and deliver very speedy and reliable.

Ian, Monday 17 May, 2021
Love the fact that delivery is always prompt. The ink cartridges are of good quality and it's great to pay discounted prices.

kevin, Wednesday 28 April, 2021
I have not tried their comparison inks so cannot comment on them. But I use only genuine inks and all have seemed okay so far.

Alison, Sunday 18 April, 2021
Highly recommend. Same day delivery in Perth. Love the ease and speed of dealing with these guys.

Margaret, Thursday 08 April, 2021
Always have had next delivery.

Lorraine, Sunday 21 March, 2021
Placed our order, delivered super quick and efficiently - great service!!!

Jan, Sunday 07 March, 2021
Always prompt delivery. Even though we live in a regional area, the ink cartridges always arrive the next day.

Robin, Wednesday 03 March, 2021
Fast.

Thomas, Friday 19 February, 2021
Excellent communication, first rate delivery and customer care

allan, Thursday 18 February, 2021
Very good and quick

John, Friday 29 January, 2021
As always -- prompt impeccable service.

Jim, Wednesday 13 January, 2021
Prompt service for products I wanted

Michelle, Thursday 24 December, 2020
Excellent service. So impressed with how quickly I received my items (by the next day) even though I'm in a different state.

Sue, Monday 14 December, 2020
Always prompt delivery and excellent products. Highly recommend.

Deborah, Friday 17 July, 2020
Happy with original Canon cartridges at a good price/. Good Communication and help from Customer Service, regarding the printer I had on backorder. Due to the COVID virus printer stocks have been depleted. I understand your situation and thank you for your help.

PAMELA, Friday 05 June, 2020
My items arrived quickly once they had come back in to stock, even with the troubles COVID19 has been causing. I was kept well informed of delays and given options if I could not wait for my items to arrive. Thanks.

Geoff, Thursday 04 June, 2020
As a repeat customer of Inkdepot I can thoroughly recommend their product pricing, timely delivery, and competent customer service. I have three Canon printers, and the multi-pack bundles of printer inks are both practical and money saving. I'd have no hesitation in recommending Inkdepot to any large business, SOHO, or home user.

Pauline, Saturday 23 May, 2020
Competative pricing and quick delivery.. Will continue ordering from Ink Depot.

Sue, Monday 06 April, 2020
As ordered and arrived the next day

Govindasamy, Wednesday 11 March, 2020
After exhausting the original supply of the ink cartridges in a new printer I have bought a consignment of 6 genuine Canon cartridges. They are installed now into the printer and yet to really see the longevity of the ink in the cartridges!! With my policy of printing only what is essential, it would take some time to make comments.

Kevin, Wednesday 19 February, 2020
Quick and efficient service at a good price

Margaret, Wednesday 15 January, 2020
Unfortunately, I had to purchase a new printer - alas, requiring different inks. Had to purchase CL681 series. Well that was OK, however I had purchased, 7 months ago, CL 526 series, and had 5 left. Can't get a refund after 6 months. Bit sad about that. Delivery of the new inks, was as always, Fast. Prices OK too.

Geoff, Wednesday 11 December, 2019
Have purchased printer and ink from InkDepot in the past, and their service and pricing have been unbeatable, as they were with my current order. Communication is excellent, as is any follow-up to customer enquiries. Delivery times, even to a rural area are fast and reliable. I have no hesitation in recommending this company for all one's printer and consumables needs. Geoff.

John, Friday 22 November, 2019
Easy site to use, and very quick delivery.