Ink Cartridges for Canon PIXMA Pro-100 Printers in PIXMA Series
Ink Depot offers a great range Ink Cartridges for your Canon PIXMA Pro-100 device with high quality products at very competitive prices. We offer a 100% money back guarantee for all consumables you have purchased from us and with 98% of our advertised products in stock, you can be assured of a speed delivery.
Your Canon PIXMA Pro-100 takes the following Ink Cartridges: CLI-42 Black, CLI-42 Cyan, CLI-42G Grey, CLI-42LG Light Grey, CLI-42 Magenta, CLI-42P Photo Cyan, CLI-42P Photo Magenta, CLI-42 Yellow.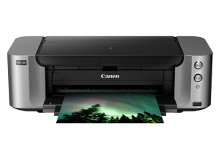 Printer for display only - not held in stock
Genuine Ink Cartridges
for Canon PIXMA Pro-100
Claim your money back guarantee for your Canon PIXMA Pro-100 Ink Cartridges / Consumables
All products sold by Ink Depot are supported by a 100% money back guarantee. If you are not entirely satisfied with the performance of your PIXMA Pro-100 printer consumables then we will gladly offer you a refund, credit or replacement. This guarantee is valid for up to 90 days after the date of your purchase. For further details about the terms and conditions of this guarantee offered by Ink Depot please see our see returns policy.
How fast will your Canon PIXMA Pro-100 consumables be delivered to you?
We use FAST Australia Wide courier delivery. Your cartridges will usually be dispatched from either the Melbourne, Sydney, Brisbane, Adelaide or Perth Warehouse the same day if ordered before 1pm. As a general guide, deliveries to major cities will take 1 to 2 days whilst it could take up to 5 days for more remote areas. We offer FREE delivery for orders over $99.00 or only $6.95 for orders under $99.00. See our shipping policy for further details.
If you are looking for an updated driver or an instruction / user manual for your PIXMA Pro-100 printing device, please check the Manufacturers' website.
What our customer says about their PIXMA Series or PIXMA Pro-100 Ink Cartridges purchases

Tony, Wednesday 17 February, 2021
Prompt and efficient đź'Ť

Allan, Friday 22 January, 2021
A very quick delivery

Graham, Sunday 01 November, 2020
Excellent prompt service at competitive prices. I certainly would recommend Inkdepot to anyone.

Michelle, Thursday 22 October, 2020
Easy online ordering, super quick delivery. Product exactly as advertised and they threw in a free pen!. Will definitely order from this business again.

Graham, Friday 18 September, 2020
Excellent service, competitive pricing and fast delivery. I highly recommend Ink Depot. Graham.

Andrew, Sunday 06 September, 2020
Despite all the current restrictions, Ink Depot continues to deliver in lightning-fast speeds. 2 days is the most I've ever waited for a delivery.

Charlton, Wednesday 02 September, 2020
Very quick & efficient service!

billy, Sunday 16 August, 2020
Great thanks arrived quick after dispatched and lowest price I could find

Tanya, Monday 03 August, 2020
Always a super fast delivery and best prices around for genuine products! Thank you, great company 🤩

Graham, Friday 31 July, 2020
Excellent, reliable and price competitive. Highly recommend Ink Depot. Graham..

Julie, Wednesday 15 July, 2020
The inks are excellent and the service from InkDepot is just amazing. My orders are always correct and complete and the shipping is so fast!!

Trevor, Tuesday 07 July, 2020
Awesome service as usual ! This company has the best response time,excellent products! Hand shake from Mr T !

Terry, Friday 29 May, 2020
Good price. quick delivery

david, Friday 10 April, 2020
very good to buy from very quick delivery

Graham, Saturday 22 February, 2020
Excellent prompt and competitive service as always.

Jeff, Wednesday 29 January, 2020
Great service.Placed order Sunday afternoon,had it Monday lunchtime.Price was right,genuine Canon.Will shop here in future, Thanks.

Graham, Saturday 09 November, 2019
Excellent prompt service at competitive prices as usual.

david, Wednesday 18 September, 2019
very fast delivery

Trevor, Thursday 29 August, 2019
Fast service , great products at reasonable prices. 5 star all the way !

Joe, Saturday 29 June, 2019
Came on time and to specifications

Erfenina, Wednesday 15 May, 2019
Fast delivery I haven't open my product but will let you know how it goes

Graham, Wednesday 23 January, 2019
Excellent service and competitive pricing.

Trevor, Thursday 27 December, 2018
Thanks for your great service Ink Depot! Excellent response on every order Trevor

Graham, Thursday 25 October, 2018
Excellent service

Tiffany, Wednesday 17 October, 2018
WOW! Placed my order early yesterday afternoon, received a shipping notification email two hours later and found it at my door at 7am this morning. Amazing service. Genuine Canon ink cartridges at the best price I could find. I'll never shop anywhere else! Thank you so much.

Zdzislaw, Saturday 30 June, 2018
Very good communication and fast delivery. I highly recommend.

Graham, Thursday 14 June, 2018
Great service and competitive prices.

Carolyne, Wednesday 13 June, 2018
OMG i love this company ..so quick ,great quality products , service is five star , would recommend them to everyone ......thank you so much

Alyson, Thursday 10 May, 2018
Have been ordering from Ink Depot for some time now. Being based in country WA and needing non mainstream cartridges the very fast service and delivery is fantastic and I wouldn't get that from anywhere else.

Andrew, Thursday 05 October, 2017
Very, very fast delivery, even interstate.

Ron, Friday 17 March, 2017
I placed my last order early on Friday morning and it arrived around 3 o clock that afternoon. I realised I hadn't used my discount voucher and your staff member was able to fix that up and organised a credit refund when I called. Many thanks for your excellent service.

Daniel, Wednesday 22 February, 2017
Good price

Andrew, Wednesday 28 December, 2016
Always a speedy delivery. Best prices I have found for printer ink.
pippa, Saturday 15 October, 2016
Ink Depot are very reliable. I've used them many times now and the products I order usually arrive the next day. Super fast and well packaged. It's a great service. Nb. I don't work there or have shares in the company. I'm just a customer. .

Graham, Friday 14 October, 2016
Prompt service generally next day delivery and very competitive prices. Graham

Greg, Wednesday 24 August, 2016
There was a mix up with what colours were available with my order causing a delay in delivery and the compleated order coming from two different depot's. This did cause some problems for me as the inks not available were the inks I needed for a job. Once I had contacted Ink Depot they recognised the error and corrected it. The only problem was the delay in delivery because of the non availability of certain colours. The price is a good price and in the end saved me a lot of money. Happy with there reaction to the problem they created with the missing colours. Ink Depot was in contact me by phone as soon as I questioned the order. I would recommend Ink Depot but I would ask first before ordering if the particular colour is in stock. I could not see any information of stock counts in store to give the customer some idea of what is in store. Perhaps Ink Depot could place that information next to each item. This then gives the customer a chance to look elsewhere.

Carol, Monday 29 February, 2016
My order arrived the very next day and everything was in good shape. Thanks: Carol

pippa, Saturday 27 February, 2016
Quick, efficient and the right products delivered in great condition. I ordered this lot at 6pm and received it the next morning at 11am. Great service.

Ria, Sunday 24 January, 2016
Excellent. Very fast delivery.

Andrew, Wednesday 30 December, 2015
Cheaper than Canon for ink. Very prompt service. Very impressed.

Margaret, Saturday 17 October, 2015
Excellent service throughout the whole process. Even when I forgot to order an item I emailed sales and they phoned me immediately to fit the extra inks on my order saving me postage. From the time I ordered the inks to the time I received the inks was 24 hours. I live in Perth and found that great as usually it takes a few days and up to ten days with many on line sales. Because there is a depot in Perth this makes the delivery times much faster. I certainly recommend Ink Depot for all your supplies. The Prices are excellent on all products. Thanks to Ink Depot for the excellent service. Greg Perth Western Australia

cheryl, Friday 18 September, 2015
Excellent service you deliver as stated. I received order in two days and with added savings on Canon Inks discounted including an order of Canon photo papers - savings and fast delivery service as stated - Ink Depot you deliver a quality product. Thank you. Cheryl