Ink Cartridges for Canon PIXMA MG5760 MG5765 Printers in PIXMA Series
The Canon PIXMA MG5760 MG5765 uses the following PGI-670, PGI-670XL, CLI-671, CLI-671XL Ink Cartridges namely - CLI-671 Black, CLI-671 Cyan, CLI-671 Magenta, CLI-671XL Black, CLI-671XL Cyan, CLI-671XL Magenta, CLI-671XL Yellow, CLI-671 Yellow, PGI-670 Black, PGI-670XL Black.
Ink Depot offers a great range Ink Cartridges for your Canon PIXMA MG5760 MG5765 device with high quality products at very competitive prices. We offer a 100% money back guarantee for all consumables you have purchased from us and with 98% of our advertised products in stock, you can be assured of a speed delivery.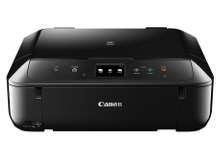 Printer for display only - not held in stock
Genuine Ink Cartridges
for Canon PIXMA MG5760 MG5765
Claim your money back guarantee for your Canon PIXMA MG5760 MG5765 Ink Cartridges / Consumables
All products sold by Ink Depot are supported by a 100% money back guarantee. If you are not entirely satisfied with the performance of your PIXMA MG5760 MG5765 printer consumables then we will gladly offer you a refund, credit or replacement. This guarantee is valid for up to 90 days after the date of your purchase. For further details about the terms and conditions of this guarantee offered by Ink Depot please see our see returns policy.
How fast will your Canon PIXMA MG5760 MG5765 consumables be delivered to you?
We use FAST Australia Wide courier delivery. Your cartridges will usually be dispatched from either the Melbourne, Sydney, Brisbane, Adelaide or Perth Warehouse the same day if ordered before 1pm. As a general guide, deliveries to major cities will take 1 to 2 days whilst it could take up to 5 days for more remote areas. We offer FREE delivery for orders over $99.00 or only $6.95 for orders under $99.00. See our shipping policy for further details.
If you are looking for an updated driver or an instruction / user manual for your PIXMA MG5760 MG5765 printing device, please check the Manufacturers' website.
What our customer says about their PIXMA Series or PIXMA MG5760 MG5765 Ink Cartridges purchases

GAYLE, Thursday 08 April, 2021
Excellant service, would reccommend it to all.

Lesley, Sunday 21 March, 2021
Absolutely first class service, if only other companies were like this! I placed my order in the afternoon and it was delivered the next day. The Ink Depot provides consistently good service and orders are always filled correctly, I have recommended them to friends too.

Terry, Sunday 28 February, 2021
My twelfth delivery from Ink Depot and as with every time the delivery service is outstanding. Don't know how they do it but nobody comes close to their delivery standard. Great products from inks to equipment.

Allan, Friday 22 January, 2021
A very quick delivery

Joanne, Wednesday 13 January, 2021
Prompt service, quality ink.

Margaret, Friday 11 December, 2020
Easy to order on line and delivered to my door the next day.

Carol, Sunday 25 October, 2020
Very efficient service - speedy delivery

Robert, Wednesday 30 September, 2020
The products I ordered from Ink Depot arrived within a couple of days in good order and were very cheap.

Mavis, Friday 18 September, 2020
I literally placed my order for inks one day, and the product turned up the very next morning. I was thrilled with the service. Never a mistake with the product sent. Always exactly as ordered. So glad that the inks are available once again, following the Covid Shortage. From a very satisfied Customer.

Robert, Wednesday 02 September, 2020
It appears to print

Graham, Friday 31 July, 2020
Excellent, reliable and price competitive. Highly recommend Ink Depot. Graham..

Ken, Sunday 19 July, 2020
Always next day delivery which is great.

Halina, Thursday 04 June, 2020
Even with the COVID-19 restrictions, I still received my order fairly promptly and without any problems. However, the ink itself I'm not happy with. This is the first time I've tried a compatible ink and found that it didn't work in my printer. I won't buy them again.

Christopher, Sunday 17 May, 2020
Excellent service and product. Arrived well in advance of the tracking info!

Clive, Friday 17 April, 2020
Excellent service in difficult times

Maree, Saturday 08 February, 2020
More than happy with the products. Great customer service and prompt delivery.

Eric, Thursday 06 February, 2020
Very turn around with orders

JUDY, Saturday 21 December, 2019
Always fa6t efficient service/ delivery. No complaints here.

Lesley, Saturday 16 November, 2019
Fast delivery, I received exactly what I ordered and at a good price. I would never buy my ink anywhere else. Highly recommended!

Moira, Wednesday 06 November, 2019
Once again an excellent overall service from The Ink Depot.

Brandon, Saturday 17 August, 2019
Prompt, overnight delivery

Pamela, Friday 19 July, 2019
Great product and printing well. Delivery was super quick.

Ken, Wednesday 17 July, 2019
Very prompt service order and then received the next day very happy

Michelle, Wednesday 08 May, 2019
Repeat customer, great prices, fast delivery, would recommend inkdepot to anyone. Michelle Mead

Dorothy, Wednesday 03 April, 2019
Very pleased with the speed and accuracy of the service.

Charles, Wednesday 20 March, 2019
Brilliant service, ordered one evening and the delivery came before lunchtime the next day

Mayer, Friday 22 February, 2019
Best and most helpful Company, would not use anyone else thanks heeps guys you have saved me heaps when I have had not ink at work, 5 Star always, Cheers Charon

Bailey, Friday 28 December, 2018
I get all my ink catridges from InkDepot and priced a new printer and cartridges for a family member - price was lower bot both items including delivery. Delivery was super fast. Great service always.

ruth, Wednesday 26 December, 2018
prompt delivery of goods as ordered

Debbie, Wednesday 05 December, 2018
So fast. Came almost the next day. Excellent.

Christopher, Saturday 17 November, 2018
Good products; cannot tell the difference from the originals except for the very good price. Excellent service too.

Mayer, Friday 26 October, 2018
Fantastic Products, Great Service and very Quick to get my ink thanks Guys you have been a Life Saver many times Cheers Charon

Robyn, Friday 26 October, 2018
Thank you Ink Depot. Your service is excellent and delivery rapid. I always speak highly of your company.

Jim, Wednesday 24 October, 2018
great product fast despach great people to deal with

Christine, Wednesday 19 September, 2018
Inkdepot has never let me down. They are efficient from when I place my order until delivery. I always receive my orders very quickly. Thank you Inkdepot.

Ian, Thursday 30 August, 2018
The 2nd time that I've bought from Ink Depot. The prices were OK for genuine ink, and the delivery was exceptional. I ordered one day, delivered the next! Definitely recommend buying from Ink Depot.

JUDY, Wednesday 11 July, 2018
Second to none. I live in North Queensland. Cartridges ordered 10am Thirsday. Deluvered to my door 24 hours later. Unbelievable service. Very obliging friendly staff. Extremely prompt delivery. Would not purchase from any other. Thank you

Ken, Wednesday 13 June, 2018
Always happy with the service from inkdepot.

David, Wednesday 30 May, 2018
fast as thanks

Janice, Saturday 12 May, 2018
Excellent service and speedy delivery. I recommend Ink Depot to everyone.

Alex, Thursday 19 April, 2018
Very prompt with delivery and would recommend to anyone to use your services

Alma, Thursday 22 March, 2018
excellent speedy service.

Pamela, Sunday 25 February, 2018
As usual your products arrived very promptly and the person I spoke to in your office was very pleasant - I rate you 5 starts Pam Daniel

Jenny, Saturday 10 February, 2018
Received my order on time and good communication.

Lisa, Wednesday 13 December, 2017
Prompt service, price is good I would recommend inkdepot to anyone who needs ink refills. I've ordered twice now and both times the ink is just like the originals but much less expensive. Thanks for the savings inkdepot :-)

Kiri, Thursday 07 December, 2017
Good products and pricing, reliable and fast service. Repeat customer.

Chris, Thursday 23 November, 2017
received promptly allwing for freight time

Martin, Friday 03 November, 2017
This Company is the best! The website is so easy to use and to make an order. Try it out and you will not be disappointed.

Bernadette, Thursday 19 October, 2017
Cartridges have always been good quality, excellent prices, delivery is soooo quick.

Lisa, Saturday 19 August, 2017
Very efficient, received my order promptly, the price was definitely a saving compared to purchasing locally. I would definitely recommend this company. Lisa

Lyn, Saturday 06 May, 2017
Fast service. Product as ordered. Would recommend

Tammy, Saturday 11 February, 2017
Highly recommend ordering from these guys. Ink cartridges always arrive very quickly. Have had an small issue in the past which they very quickly resolved. High recommend

Robert, Monday 23 May, 2016
Very prompt delivery

Geoff, Sunday 22 May, 2016
have used inkdepo for many years now. Service and quality is second to none

Daniella, Saturday 21 May, 2016
Super quick delivery. Ordered on Wednesday afternoon & it arrived Thursday morning. Thank you

Deborah, Friday 20 May, 2016
brilliant. good price. arrived by lunchtime the day after i ordered the cartridges. very happy

Fred, Thursday 19 May, 2016
excellent service

Nari, Friday 13 May, 2016
Great service. The printer was delivered next day!

James (Rod), Friday 15 April, 2016
Gret service , I would let everyone know how professional inkdepot is! Rod