Ink Cartridges for Canon PIXMA MG5250 Printers in PIXMA Series
The Canon PIXMA MG5250 uses the following PGI-525, CLI-526 Ink Cartridges namely - CLI-526 Photo Black, CLI-526 Cyan, CLI-526 Magenta, CLI-526 Yellow, PGI-525 Black.
Ink Depot offers a great range Ink Cartridges for your Canon PIXMA MG5250 device with high quality products at very competitive prices. We offer a 100% money back guarantee for all consumables you have purchased from us and with 98% of our advertised products in stock, you can be assured of a speed delivery.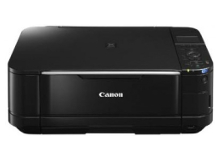 Printer for display only - not held in stock
Genuine Ink Cartridges
for Canon PIXMA MG5250
Claim your money back guarantee for your Canon PIXMA MG5250 Ink Cartridges / Consumables
All products sold by Ink Depot are supported by a 100% money back guarantee. If you are not entirely satisfied with the performance of your PIXMA MG5250 printer consumables then we will gladly offer you a refund, credit or replacement. This guarantee is valid for up to 90 days after the date of your purchase. For further details about the terms and conditions of this guarantee offered by Ink Depot please see our see returns policy.
How fast will your Canon PIXMA MG5250 consumables be delivered to you?
We use FAST Australia Wide courier delivery. Your cartridges will usually be dispatched from either the Melbourne, Sydney, Brisbane, Adelaide or Perth Warehouse the same day if ordered before 1pm. As a general guide, deliveries to major cities will take 1 to 2 days whilst it could take up to 5 days for more remote areas. We offer FREE delivery for orders over $99.00 or only $6.95 for orders under $99.00. See our shipping policy for further details.
If you are looking for an updated driver or an instruction / user manual for your PIXMA MG5250 printing device, please check the Manufacturers' website.
What our customer says about their PIXMA Series or PIXMA MG5250 Ink Cartridges purchases

Jane, Thursday 15 April, 2021
I received my order in two deliveries both of which arrived quickly and were delivered as requested. Thank you 😊

Danny, Wednesday 24 March, 2021
I am very impressed with Ink Depot. Their delivery service is fast and efficient.

Rae, Sunday 21 March, 2021
Found Ink Depot years ago and wouldn't even consider going elsewhere now. Courteous, helpful, efficient staff and next day (incredibly fast to a Rural area) delivery service. Prices are amazing plus their Loyalty Points system as well. WELL DONE INK DEPOT. !

Doug, Thursday 04 March, 2021
Quick service and good quality

Raymond, Saturday 27 February, 2021
good ordering process. Rapid delivery. I just think I am paying overs for the product. They offer discount codes with a short time span which is useless to me as I only order every 4-8 months.

Mel, Sunday 24 January, 2021
Fast delivery, great price.

Rae, Wednesday 13 January, 2021
I have been with Ink Depot now for many many years and wouldn't even consider looking elsewhere. Such fantastic service, VERY helpful staff, next day delivery THROUGH MY SPECIFIED COURIER. (which is EXTREMELY important to me, being in a rural area). Also AMAZING prices. Impossible to do better elsewhere. WOULD (AND HAVE MANY TIMES) RECOMMENDED INK DEPOT. WELL DONE!

Norma, Wednesday 30 December, 2020
Always prompt, dependable and courteous. I would recommend to anyone.

Gene, Friday 25 December, 2020
All good, no issues.

Jane, Friday 23 October, 2020
Always thankful for your speedy and reliable service. Excellent products.

Frank, Sunday 26 July, 2020
Response was very good would recommend you.

Ernest, Thursday 18 June, 2020
Fast and efficient service would recommend

Barbara, Wednesday 13 May, 2020
Great Price and Excellent delivery service

Raymond, Sunday 12 April, 2020
Always receive within 48 hours and I am in rural Victoria.

Deborah, Friday 03 April, 2020
All good

Gene, Tuesday 14 January, 2020
Excellent service.

Andrea, Friday 18 October, 2019
Great product, fast delivery.

Peter, Thursday 15 August, 2019
Excellent web site and proactive sales information. Superb service as well.

Robert, Wednesday 03 July, 2019
Easy ordering, very prompt delivery, good prices.

Gene, Saturday 20 April, 2019
Great and quick.

Dinah, Friday 08 March, 2019
Incomparable service - ordered one day, delivered the next. I have no idea how you can improve on this! Thank you.

Jane, Friday 22 February, 2019
My order always comes without delay and the service and products are excellent. Thank you 😊

Jan, Wednesday 16 January, 2019
excellent fast service for its products and the price is excellent as well.

John, Saturday 20 October, 2018
Unbelieveable service, and great prices too!! Order placed mid-afternoon one day, items (carefully wrapped) arrived 650km away by 10am next morning. John "I'll be back."

Phillip, Thursday 20 September, 2018
Very fast turnaround and fantastic price!

Howard, Sunday 22 July, 2018
Ordered one day got it the next morning. Top service as usual. I've been a customer for years and always had the same quality service.

Krystyna, Wednesday 06 June, 2018
Good fast service. Good price. I recommend it.

Sue, Sunday 13 May, 2018
Definitely a 5 star performance on all levels, nothing whatsoever to complain about !!!!

Marcia, Saturday 17 March, 2018
Same day delivery - amazing service - lower prices - exceptional - take a bow Inkdepot !!!

Jan, Friday 23 February, 2018
excellent service , certainly no complaints at all .THE BEST!.

Nicola, Sunday 14 January, 2018
Love the speedy delivery

Wendy, Wednesday 08 November, 2017
Super fast and efficient customer service as always, highly recommend ink depot for any printing needs

Barbara, Thursday 19 October, 2017
Always reliable for quality products and prompt delivery, that's why I keep coming back.

Pauline, Wednesday 27 September, 2017
Very fast delivery even out in the bush! Thanks, Pauline

Rene, Monday 25 September, 2017
Excellent service and price

Shantini, Wednesday 16 August, 2017
Very prompt service!

Russell, Thursday 10 August, 2017
Good, fast service

Jan, Sunday 23 July, 2017
very good and efficient service ,Thanks , John

Tracey, Tuesday 27 June, 2017
So fast!!!

Russell, Sunday 04 June, 2017
Fantastic as always

Russell, Saturday 06 May, 2017
Excellent Service and super fast delivery.

Allan, Wednesday 15 March, 2017
Have always received genuine products within a couple of days of ordering. The latest experience was that the order despatched within hours of request! Thanks.

Neil, Wednesday 08 February, 2017
Ink dispatched quickly, using generic ink without problems in Canon printer

Sue, Wednesday 08 February, 2017
I live in Far North Queensland, where sometimes, it takes ages for any online orders to arrive, but never with Ink Depot ! Amazingly my order always arrives the day after I order, as reliable today as it has always been. I have been a client for several years now, and not once have I ever been disappointed!

Jan, Sunday 06 November, 2016
I've been relying on inkdepot for my printers and ink supplies for at least ten years now. I used to do a lot of photo printing for my photographic club, but failing eyesight has stopped my photographic endeavours. Inkdepot has kept me supplied with Canon original inks at the best prices all this time without fail. I don't use nearly as much ink now, but I still would not go anywhere else for my inks. Delivery of orders has always been fast, reliable and accurate. I would recommend inkdepot without hesitation!

Ron, Friday 16 September, 2016
I've been using this group and it's previous iteration in Brookvale, Sydney for nearly 10yrs and never had any problems, delivery time was always first rate.

Therese, Sunday 11 September, 2016
Quality Products at competitive prices. Delivery always prompt. Thank you for such fabulous service. Cheers Therese

Julie, Thursday 25 August, 2016
5 star service, 5 star delivery. Excellent prices.

James, Friday 05 August, 2016
easy ordering. easy website search to locate ink. Next day despatch and quick delivery.

Allan, Thursday 21 July, 2016
An excellent company to deal with. Very prompt despatch; they seem to realise that we order at the last moment. We only use genuine products; prices are best available.

Bill, Saturday 18 June, 2016
Super Quick Thank You!!

Judith, Friday 27 May, 2016
I find the pricing competitive and inks are delivered to my door within 24 hours. Great service.

Russell, Thursday 05 May, 2016
Prompt delivery. Excellent price. Hassle free ordering.

colleen, Sunday 17 April, 2016
Excellent communication from the time the order is lodged. I have had over 10 orders from the Ink Depot. Every order has been accurate and delivered promptly on the next working day. Could not ask for better service from a company.

Jeremy, Saturday 12 March, 2016
Great priced cartridges, super fast delivery.

Howard, Friday 11 March, 2016
Always very prompt service! Been using Ink Depot for years.

Nicola, Wednesday 24 February, 2016
Great service. Same day delivery so couldn't ask for more. Extremely efficient company. I use all the time

Germaine, Friday 12 February, 2016
Amazing service and the compatibles are great to use in our printers.

Margaret, Monday 18 January, 2016
Benn with this company for ages and as ever always good prompt service, thanks

Rae, Saturday 19 December, 2015
Absolutely FANTASTIC service, very professional and a pleasure to deal with. Have ALWAYS received EXTREMELY prompt next day delivery, WONDERFUL pricing (and the added bonus of the Points system)! Have highly recommended (and have pleasure in doing so) to friends and colleagues. I only buy "genuine" but WOULD NOT BUY MY INKS FROM ANYONE ELSE NOW. Thank You for such great service.

margaret, Tuesday 24 November, 2015
ALL GOOD PRODUCTS - NEVER HAD ANY PROBLEMS. YOUR COURIER SERVICE IS EXCELLENT.

John, Friday 23 October, 2015
Hassle free prompt delivery w

Keith, Friday 18 September, 2015
I have used Ink Depot for many years and have found them excellent to do business with highly recommended.

Sue, Thursday 17 September, 2015
Love dealing with this company! My last order arrived the very next day.......so what you may say, but I live in Far North Queensland where parcels can take forever to arrive. NOT ink depot, always ahead of time, the package is packed securely and safely, and I usually get a discount, so what more is there to want ? Like I said, I love 'em!

Eren, Wednesday 02 September, 2015
great products, fast delivery and great service

Geoff, Saturday 29 August, 2015
Prompt and accurate delivery of quality product, again. Thanks.

Mark, Saturday 08 August, 2015
I`m very happy with your product and service as well your speed of delivery Cheers Mark

Eren, Sunday 05 July, 2015
Great quality and speedy delivery

Bruce, Sunday 05 July, 2015
Good prices, fast delivery. All you need from a commodity.

Peter, Wednesday 24 June, 2015
You must be experts in anticipation. You can deliver almost before I place the order!!!! Outstanding service, truly, second to none Pete

Pauline, Wednesday 06 May, 2015
Excellant service. Very fast delivery especially as I live in a country area.